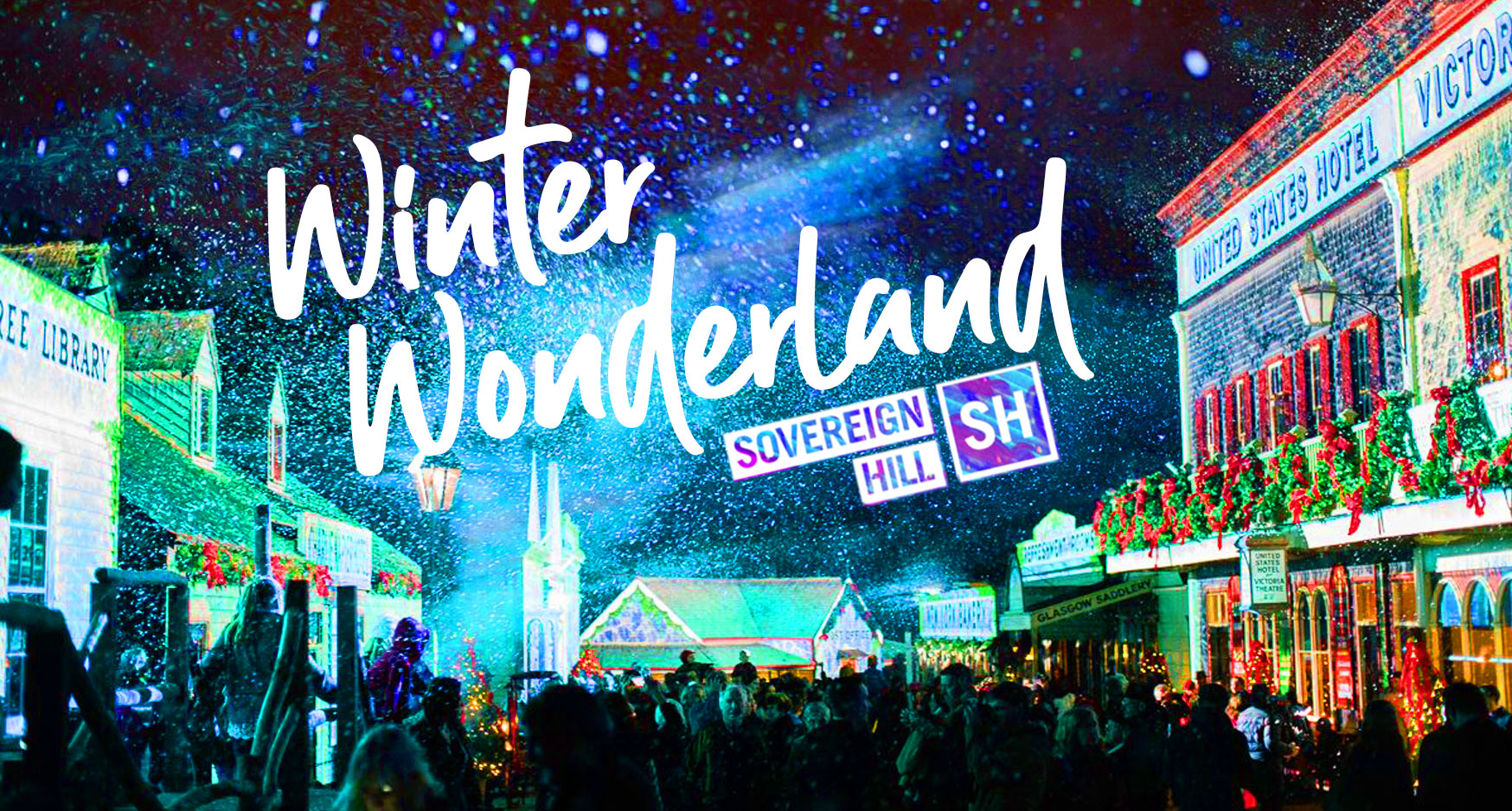 Date
16 Jul 2022
Expired!
Sovereign Hill – Winter Wonderland
**SOLD OUT – Join the waiting list below**
Sound, lights, theatre program, delicious treats and snow!
Jump on board the Adventure Bus as we travel back in time to Sovereign Hill, but this time with a difference! We are going to experience everything this amazing town has to offer in the heart of winter with a twist of the Christmas Spirit.
It's time for sound, lights and wintry delights.
By day, Sovereign Hill is alive with a full program of hands-on activities, delicious treats, and colourful decorations.
But when the sun goes down, that's when the real magic happens as music and lights illuminate our iconic streetscapes and gardens.
By Day
All of the regular daily activities and demonstrations including gold panning, coach rides, candle-dipping, sweet making demonstrations, the Redcoat Soldiers, gold pour demonstrations, and much more can be enjoyed.
See the  talented printers using original machinery from the gold rush era. Come with us on a journey to hear a timeless story told through poetry and stunning Victorian shadow puppets. Learn how the mischievous Gingerbread Man got his start.
And test your skills in one of the most popular games on the goldfields – nine-pine bowling! See if you can knock down all of the pins using hand crafted bowling balls.
By Night
The sun has gone down and you can no longer see the gold in the creek but that doesn't mean the Diggings has gone quiet. Follow the paths and enjoy the ambiance of evening life on the Goldfields. The gardens of Sovereign Hill are illuminated by our kilometers of fairy lights. Mosey around the Post Office Lake and enjoy a picture perfect moment with the gang.
It will be snowing on Main Street with snow machines in action and it will be illuminated with dazzling, vibrant projections accompanied by a rousing musical score, telling a story of celebration and togetherness.
St Nicholas has had a busy day and once the evening comes he wants to relax by the creek. Head down and visit with St Nick on the diggings.
Adventure details
Date: Saturday 16 July 2022
Time: 11.00am – 10.00pm
Travel: Adventure Bus
Age Group: 18+
NDIS Price
1:3 Rate – $427
1:1 Rate – $944 – ask us for availability
Plus pickup or drop off service to your home will incur additional costs
Out of pocket expenses:
• Entry Ticket = $46.50 (concession)
Spending money: A light lunch will be had on the goldfields so either bring some spending money for that or you can BYO. Other activities can be joined on the day for various prices.
Join the Waiting List