Waggle Wheels
People with disabilities making buggies for pets of all abilities.
What are Waggle Wheels?
Fraggle is the Adventurebilities resident dog with a disability. He finds it difficult to walk for long distances but still loves to get out and about, smell all the things and meet every single person in Bendigo in case they have treats in their pockets.
We found he was spending more and more time at home while we went out for a longer walk with our other dog Maggie. Fraggle was become bored and restless, barking a lot and destroying things at home. So it was imperative that he was able to join us on our long walks each day and increase his quality of life and mental health.
There are plenty of dog prams available to purchase online however there is nothing available for larger dogs, and most available prams require the owner to lift the dog in and out of it, which is not so great for our elderly community members, or those with mobility issues themselves. So Rob turned on his creative brain and decided to build something himself using his mechanic and carpentry background. We sourced some recycled materials (old prams, timber, metal, cushions etc) from our local recycle centre, pulled everything apart and engineered a little buggy for Fraggle to easily walk in and out of during our morning strolls. Wherever we go, people stop us and ask about the buggy and want one for their dog too.
Hence the idea of Waggle Wheels was born … and what better way to build these buggies than by teaching our disability community the skills to construct one themselves.
About the program
Waggles Wheels is a weekly workshop program where people with disability come together, make friends and spend time in the community hunting for recycled prams and other materials. Once back at the workshop the team learn new skills by pulling the prams apart, cleaning them up and redesigning them as buggies for dogs and other animals with disabilities.
The buggies are then gifted for free to the local community so they too can then take their pets out on longer walks and for social opportunities, which is great for both the pets and owners mental health. When the buggy is no longer required, it can be brought back to us for a service and refurbishment and then is donated to the next person on the waiting list.
The Waggle Wheels program has many benefits. It connects people of all abilities to their peers and the wider community, they learn new skills that are not widely taught here in the Bendigo region (especially working with metals), everyone is be given plenty of opportunity to work hands on with many different tools and get their creative brains activated. Our supportive team members and community volunteers are always available to provide hand-over-hand assistance if required.
As well as engineering the mechanics of the Waggle Wheels, personalised number plates are created, safety hammocks installed, fitted sheets are sewn to custom fit the comfort mattresses and then the finished buggies are painted. Some of our waggle wheels crew prefer not to use tools, they still join in and help with the plans and make design decisions. And for those that love to work with animals we also teach the dogs how to get in and out of their very own Waggle Wheels, supervised by a qualified dog trainer.
Handyman skills 
Engineering
Design
Computer work
Sewing
Painting
Dog training
Talking with customers
So as you can see there will be something for everyone to do.
With environmental issues at the forefront of our creations, 90% of materials are sourced from recycled centres, op-shops and used items from the wider community. Our friends at Sunshine Bendigo donate items to us that they are not able to refurbish themselves and would otherwise end up in landfill. New safety construction materials are sourced from local businesses.
Orders are starting to come in thick and fast and therefore we need to source more materials. So if anyone has a pram that is no longer being used and would like to donate it to us, we would be more than grateful to take it off your hands. We are especially after the larger/new pram design with the big wheels.
We are so incredibly grateful to Bunnings Epsom for donating all of the tools and safety gear for our Waggle Wheels workshop and to the City of Greater Bendigo for awarding us a small business grant to assist us getting this program up and running.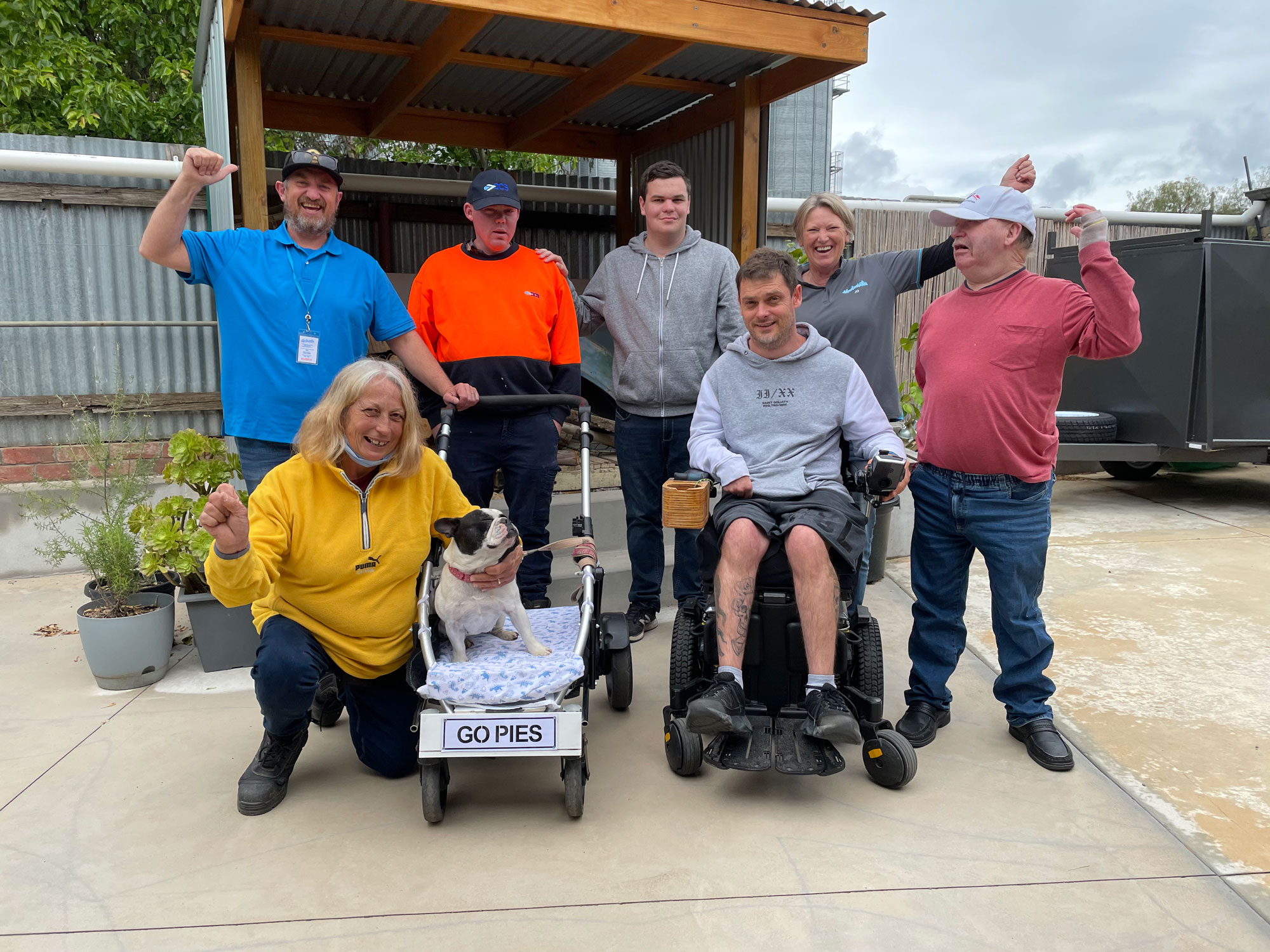 Get your very own Waggle Wheels
Waggle Wheels are free for our community members, all you have to do is complete the below form giving us as much information as possible about your pet and when we have made a buggy suitable for your needs we will be in touch.
If you you would like some further information feel free to contact us on 0480 185 840.
The Waggle Wheels program ticks so many boxes.
Innovation – this is first program of its kind in Australia.
Inclusivity – we thrive on diversity and can assist anyone with any ability to work with tools in a safe environment
We provide opportunities for people with disabilities to learn and practice skills not widely taught in the disability sector.
These skills can easily transfer to employable skills
As the program grows and the quality of our buggies improves there may be an opportunity to start charging for premium buggies and therefore creating a future economy.
The Waggle Wheels crew will continually be practicing their skills to meet and converse with the public and local business owners to further breakdown barriers
The Waggle Wheels crew take on an essential role within a community project
The workshop provides opportunities for community members to volunteer with us and work with people of all abilities.
We will be conserving resources and working with materials that would otherwise end up in landfill.
Health benefits and increased mental stimulation for both the pets and owners while they are out in the community for longer together.
Program Outcome – a better quality of life and mental health through connectivity and skill development
In essence, the Waggle Wheels project celebrates inclusivity, creativity, community and sustainability through innovation.
We are proud to live in Bendigo and want to see our loving community thrive and embrace people (and pets) of all abilities.