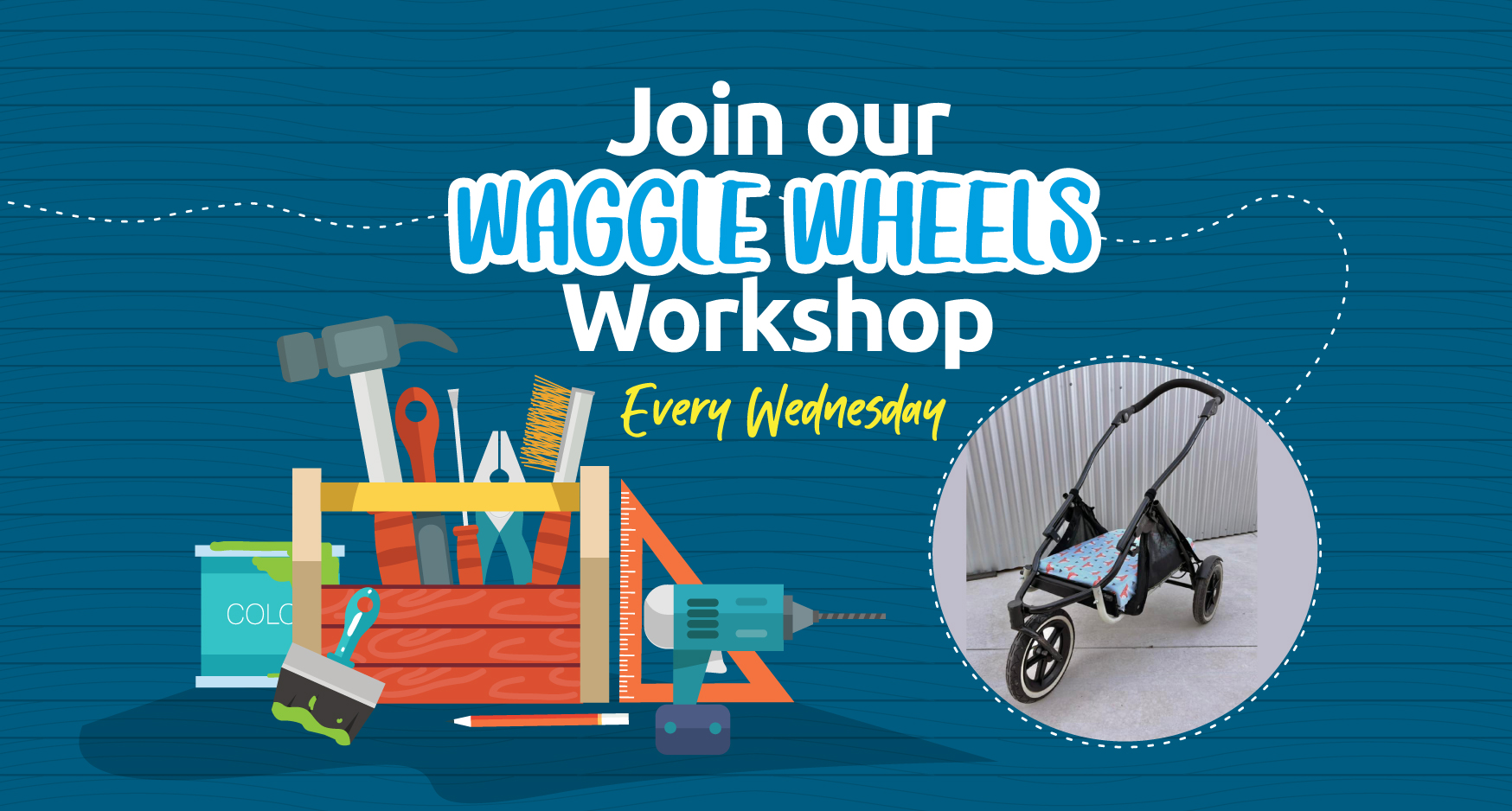 Be creative, learn to use hand tools and become part of a team.
Waggle Wheels is Adventurebilities new weekly workshop where we get on the tools to learn new skills in a fun and engaging small team environment.
**2 places currently available**
Workshop details
Date: Every Wednesday
Time: 9:00am – 3:00pm
NDIS Costs (weekly)*:
1:3 = $155
1:2 = $205
BYO lunch, snacks and drinks (The Adventure Shed has a mini kitchen).
*Additional transport costs may occur when we travel out into the community for materials pickup and for the occasional lunch excursions etc, these costs will be share by all participants. A home pick up and drop off service is also available at an extra charge. Contact us for more details.
Register your Interest here
We are so incredibly grateful to Bunnings Epsom for donating all of the tools and safety gear for our Waggle Wheels workshop and to the City of Greater Bendigo for awarding us their Small Business Grant.


What are Waggle Wheels?
Fraggle is Adventurebilities resident dog who finds it difficult to walk for long distances, but he still loves to get out and about, smell all of the things and meet every single person in Bendigo in case they have treats in their pockets. We spent ages searching the internet to buy a dog pram but there is just nothing available for larger dogs. So Rob turned on his creative brain and decided to build something himself. We sourced some recycled materials (old prams, timber, metal, cushions etc), pulled everything apart and engineered a little buggy for Fraggle to easily walk in and out of during our morning strolls. (Check out the below video of the final product.) Wherever we go people stop us and ask about the buggy and want to get one for their dog too.
Hence Waggle Wheels was born … and what better way to build these buggy's than by teaching our crafty workshoppers (that's you!!) how to do it.

About the Program
Each week the Waggle Wheels Club will head out in the bus to source recycled materials from our local op shops, recycled centres and even pickup items that have been donated. We'll then bring them back to the Adventure Shed, pull them apart, clean them up and find fun ways to put them all back together to create the perfect buggy for pets with mobility issues.
As well as engineering the mechanics of the Waggle Wheels, we will also be creating personalised timber number plates on the computer, designing our own fabrics, printing them, sewing cushions and we will even paint the finished buggies. If you prefer not to use tools, we still would love you to join in and help with the plans and make design decisions. And for those that love to work with animals we will also run a little side-program that will train dogs how to use their very own Waggle Wheels.
– Handy-man tools skills
– Engineering
– Design
– Computer work
– Sewing
– Painting
– Dog training
– Talking with customers
So as you can see there will be something for everyone to do.
Waggle Wheels will be given out free to our community members who are on a waiting list, and any money raised by donations will be saved up for special  social events with a portion being donated to local animal shelters.