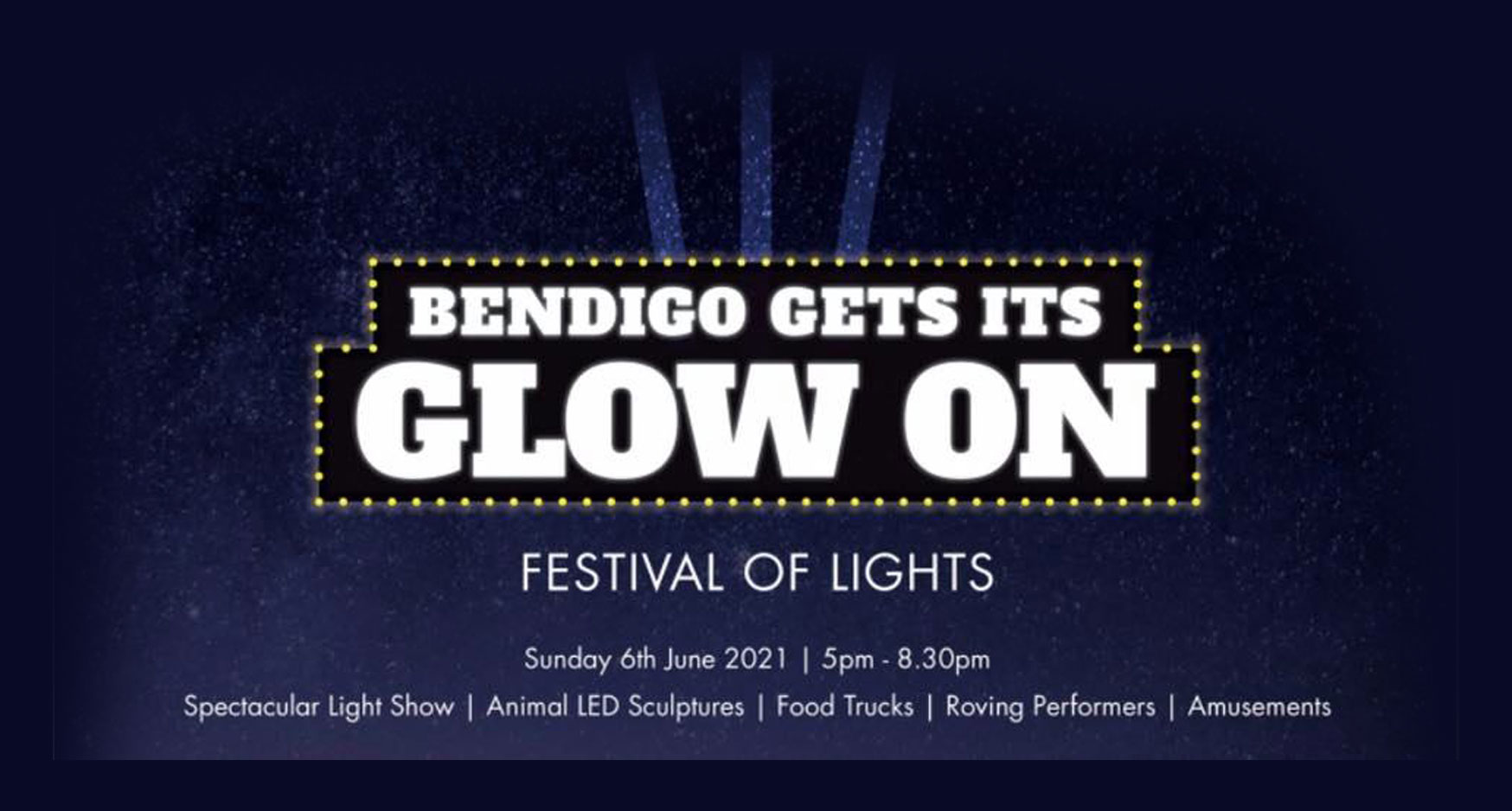 Date
20 Jun 2021
Expired!
Bendigo Gets its Glow on
Bendigo are you ready we are lighting up the Night with the Festival of Lights
After being cancelled in 2020, the Bendigo Festival of Lights is finally here 
Light show
Roving performers
Amazing international Food & dessert trucks
Bar onsite
Live music
Retail stalls
Fancy dress competition
Bendigo, welcome to your very 1st" Bendigo "Gets its glow On" event. The Glow event will include an array of LED animal sculptures placed throughout the event lighting up the grounds, roving performers and a spectacular light show at the end of the night.
The evening will include a family friendly night market offering amazing street food, market stalls, LED animal sculptures, Kids amusements to keep kids entertained .
We want you to help us light up the night and get your glow on a so we can all light up the night together Head to our glow-in-the-dark tent for Glow in the dark glasses, headbands and other glow items will all be available for purchase during the event so that you can 'Get your glow on'.
The evening will start at 5.00pm (gates opening at 4.30pm) and run through until 8.30pm, making this a family friendly event.
GET YOUR GLOW ON – The Glow is all about and getting your own glow on so we can all light up the night together. There will be prizes on offer on the night for the best glow-in-the-dark outfits. Come along in your own glow-in-the-dark gear or stop by the Night Glow souvenir tent to grab a glow shirt or hoodie, LED glasses, headbands and much more.
HOW TO ENTER THE COMPETITON
Dress up in your best glow gear. Be identified by a member of our team who will nominate you as a finalist. The best costume will be judged by our three judges who taken into account audience approval. Winner will be awarded on the night and the prize emailed the week following.
A range of food and beverages outlets will be available on the evening and we will enjoy a night picnic. Bring your own picnic blankets or seating to make the most of your Bendigo Night Glow experience. No Umbrellas Allowed, No Tables Allowed.
Adventure details
Date: Sunday 20 June
Time: 6:30pm – 9:00am
Travel: Adventure Bus
Age Group: 13+
NDIS Price
1:3 Rate – $103.50
1:2 Rate – $140.23
1:2 Rate – $100.16
Pickup and Drop off service available at additional cost, please let us know when you register if you require this service.

Out of Pocket Expenses:
– Entry Ticket $10
– Food, drink and merchandise purchases can also be made on the night
Register your interest