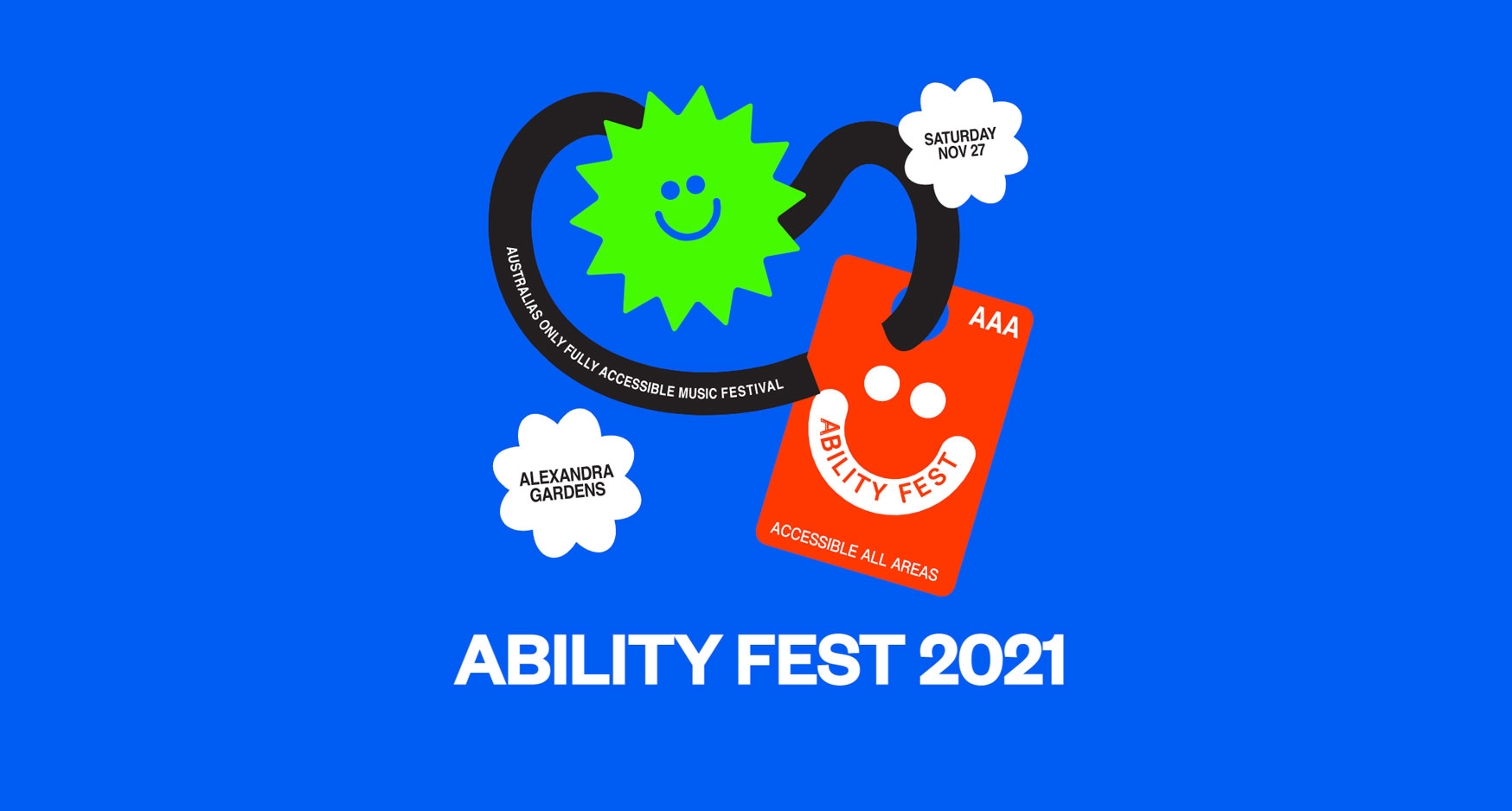 Date
27 Nov 2021
Expired!
Ability Fest 2021
Ability Fest is the country's first and only completely inclusive, fully accessible music festival, brought to you by the Dylan Alcott Foundation & Untitled Group & presented by Triple J. Conceptualised by three time Paralympic gold medalist & 14 time grand slam champion, Dylan Alcott, in conjunction with the masterminds behind musical festivals such as Beyond The Valley, Grapevine Gathering and Wildlands, Ability Fest aims to use music as an inclusive platform to normalise disability.
We welcome everyone to join us for a warm Saturday afternoon amongst friends. Local food trucks & creative vendors will line the pathways and attendees will be treated to experiences across two stages.
Alexandra Gardens will be transformed into a completely accessible venue with the inclusion of elevated platforms, pathways, a dedicated sensory area, quiet zones, companion ticketing, ramps, stacks of friendly volunteers & of course; accessible toilets.
Ability Fest was born by Alcott due to his love of music and his desire to use his foundation to change the lives of young Australians living with disability. In its first two years, Ability Fest raised just shy of $500,000 for Alcott's foundation.
These funds are used to help young Australians with disabilities fulfil their potential through their grant program. So far they've given kids right across Australia wheelchairs to go to the Paralympics, put young adults through University and even funded their own startups to help them achieve their dreams.
With the funds of each ticket bought going directly to the foundation, we want to thank you for supporting a cause very close to both the Dylan Alcott Foundation & the Untitled Groups' heart.
Being part of a festival like this is a money can't buy experience as we all band together to make an impact & change lives.
____________________
HEALTH & SAFETY:
This event will proceed based on government advice in place at the time of the event. Our priority is to meet the highest level of health and safety protocols throughout the event. COVID-19 safety plans have been prepared and we are in communication with relevant authorities. Should the event be unable to proceed on the original advertised date, it will be postponed to a later date. Refunds will be available for those who are unable to attend the replacement date.
This event will run under the Victorian Covid – 19 Public Events Framework / Guidelines and any restrictions imposed by Public Health. These requirements are fluid and may change. These requirements may include but are not limited to proof of vaccination, QR Code Check In and possibly other measures enforced by the relevant government authorities.
We encourage you to please get vaccinated against Covid-19 as soon as possible if you are medically able to. If you would like some support to get your vaccine please get in touch, our amazing team are on standby to assist you. If you are hesitant against the vaccine, please speak to your GP and/or specialist to get the best information that is appropriate for your circumstances.
____________________
Please Note
— This is a strictly 18+ event.
— Pass-outs are available to all guests via the main entrance.
— You may be filmed at this event for broadcasting.
— Come prepared for forecasted weather (Remember; it's Melbourne).
Full details of the event can be found at the AbilityFest website www.abilityfest.com.au
Adventure details
Date: Saturday 27th November
Time: 12:00pm – 12:00am
Travel: V/Line
Age Group: Strictly 18+
NDIS Price:
1:3 = $397.32
1:2 = $538.32
1:1 = $961.20 (ask us for availability)
Out of pocket expenses / spending money:
Entry Ticket = $107
Food, drink and merchandise purchases can be made on the day.
Register your interest