Waggle Wheels in the spotlight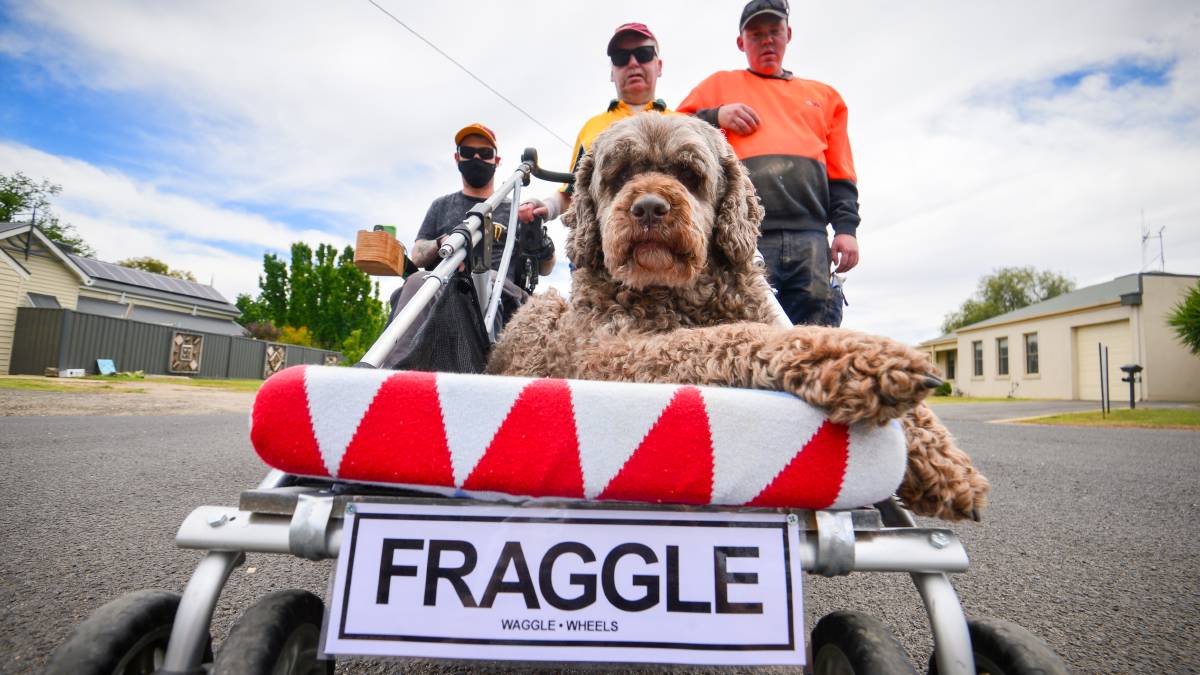 What started out with a pup with a fear of missing out has become a project like no other for the team at Bendigo-based organisation Adventurebilities.
When company director Robert Mercer's dog Fraggle was unable to go for long walks because of his disability, he decided to take action.
"Fraggle is an elderly dog that needs to be pushed around and because we couldn't walk our two dogs together, we went to the tip shop and brought an old pram with the intention of turning it into a buggie," he said.
"We spent less than $10 and rejigged it to make it low enough for Fraggle to get in and out comfortably and that's when I thought it would be a good idea to help more than just our own dog.
"We know there are plenty of prams for pets already on the market, but we couldn't get something to help larger dogs with different needs get around," Mr Mercer said.
What came next was Waggles Wheels, a weekly workshop program where people with disabilities come together, make friends and spend time in the community hunting for recycled prams and other materials.
Once back at the workshop the team learn new skills by pulling the prams apart, cleaning them up and redesigning them as buggies for dogs and other animals with disabilities.
The buggies are then gifted for free to the local community so they too can then take their pets out on longer walks and for social opportunities, which is great for both the pets and owners mental health.
When the buggy is no longer required, it can be brought back to Adventurebilities for a service and refurbishment and then is donated to the next person on the waiting list.
Mr Mercer said their new idea would give their clients another great activity to get their hands on – literally.
"We already run a disability service in Bendigo, so it made sense for us to get our clients involved in Waggle Wheels," he said.
"Usually we would go on camps or to the movies until COVID-19 came along, so we already had that client base that wanted to take part in hobbies and activities, we floated this idea and they really loved it.
"This gives them an opportunity to pick up tools and create something for these pets that can really make their lives easier.
"And they do enjoy seeing the pets come for handover day and absolutely love what they've been able to create."
Mr Mercer said being able to run this program has been a "really rewarding experience".
"I'm very fortunate to be able to say I absolutely love my job every day," he said.
"The thought of being able to get elderly people with elderly pets or owners with their pets with disabilities out leading a normal life is a great feeling.
"We're excited to see people out and exercising with their pets, especially with the last two years we've had."
If you'd like to order a buggie or donate a pram, you can get in touch online at adventurebilities.com.au/waggle-wheels
Thanks to the City of Greater Bendigo and Bunnings for their sponsorship and support.


In essence, the Waggle Wheels project celebrates inclusivity, creativity, community and sustainability through innovation.
We are proud to live in Bendigo and want to see our loving community thrive and embrace people (and pets) of all abilities.