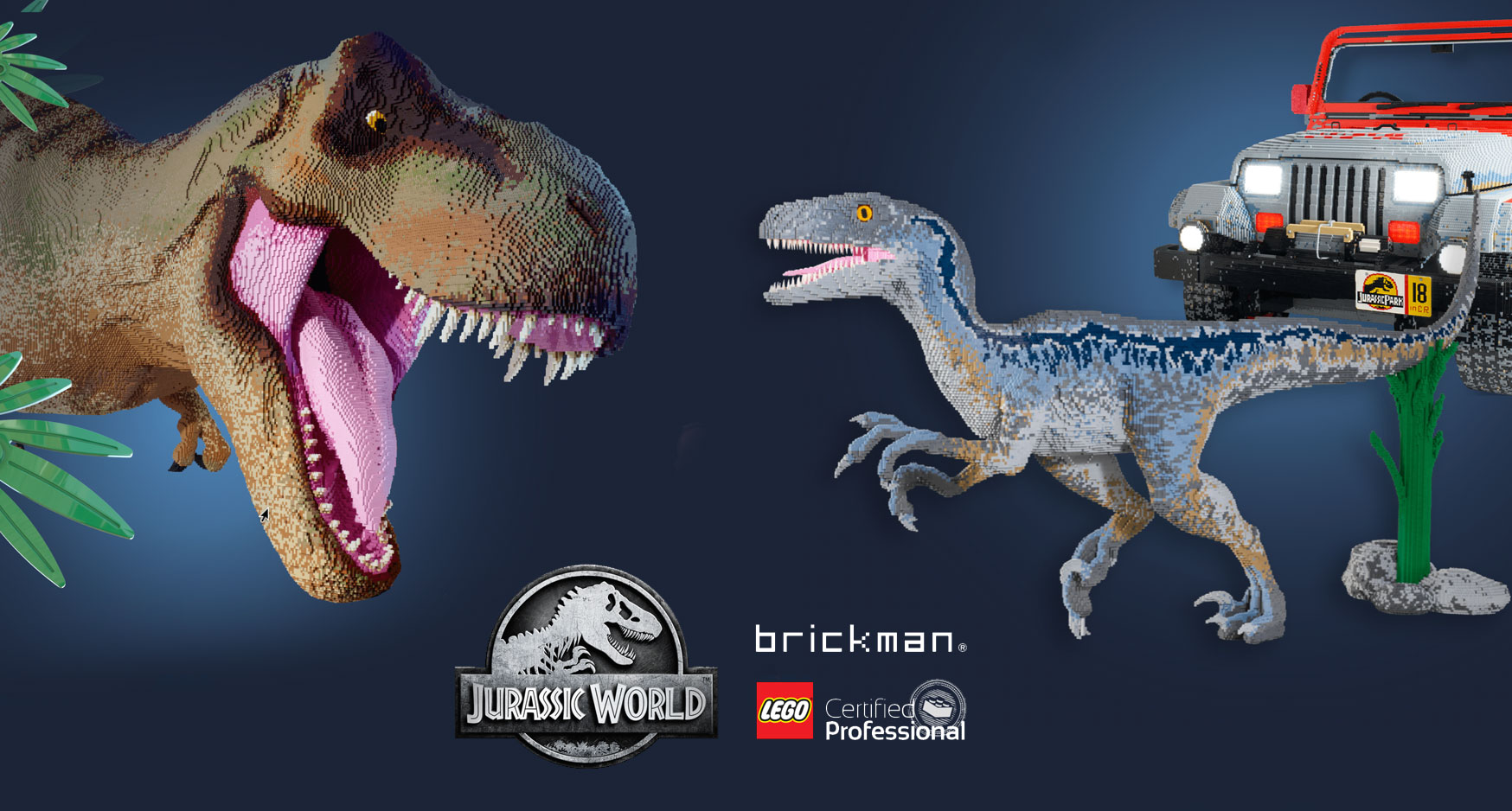 Date
15 May 2021
Expired!
Brickman Jurassic World
AN ADVENTURE 6 MILLION LEGO BRICKS IN THE MAKING
Seriously, who doesn't love LEGO … except when you step on it [ouch]!
Inside Jurassic World by Brickman you'll encounter over 50 large-scale dinosaurs, props and scenes from the blockbuster Jurassic World franchise, including life-size dinosaurs in our petting zoo, a Brachiosaurus you can walk underneath, minifig dioramas, and photo opportunities to recreate some of the most iconic moments from the films — including getting up close and personal with 2 life-size velociraptors!  You'll build your own mini Jurassic World and dinosaur footprints, create hybrid dinosaurs, help assemble enormous LEGO® brick mystery mosaics, and even build your own escape vehicles to get away from our 1 tonne T.rex model!
‍
Over 2 years, 6 million LEGO® bricks and 10,000 build hours have gone into the creation of Jurassic World by Brickman®, making it the biggest exhibition we've ever created — and we can't wait for you to see it!
Adventurers will experience the inner workings of the Jurassic World lab where dinosaurs are genetically engineered, before venturing to the baby dinosaur enclosure, where a life-size Brachiosaurus weighing well over 1.8 tonnes awaits!
We will continue our journey by learning how to track dinosaurs across the island before encountering escaped Velociraptors Blue and Delta, and of course, an enormous T.rex — a favourite of many Jurassic World fans.
We will also have an opportunity to show off our own building skills. There will be a hands-on exhibition featuring a myriad of activities, including island-building, LEGO® brick paleontology and discovery through mystery mosaics, hybrid dinosaur creation, learning to track a dinosaur by creating species footprints, and even building escape vehicles to get away from a T.rex. With 2.5 million bricks to play with, creativity will not be in short supply!
Adventure details
Date: Saturday 15 May 2021
Time: 10:00am – 4:30pm
Travel: V/Line train from Bendigo
Age Group: 10+
NDIS Price
1:3 Rate – $209.04
1:2 Rate – $283.21
1:1 Rate – $505.77
Out of pocket expenses:
Tickets: Conc. $27.50  /  Junior (4-15y/o) $25.00  /  Adult $35.00
Spending money: Food and drink purchases can be made on the day, or you can BYO lunch. Merchandise is also available to purchase at the gift shop if you would like a souvenir.
Register your interest here