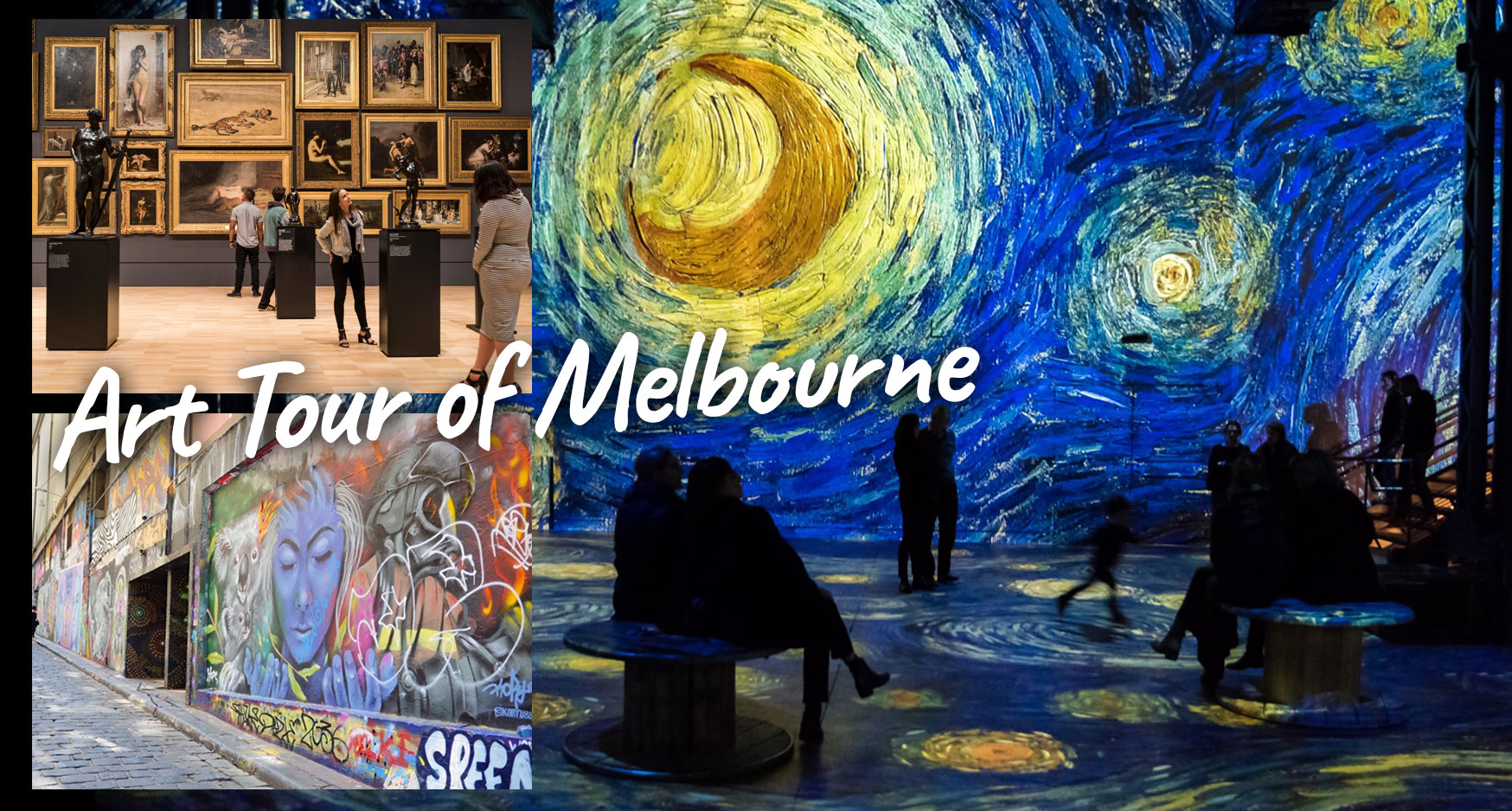 Date
11 Apr 2022
Expired!
Art Tour of Melbourne
Join us as we travel to Melbourne to wander through the National Gallery of Victoria, Fed Square and the new digital emersion experience that is the Lume, featuring Vincent VanGogh's paintings.  Exploring Melbourne's many graffiti laneways will round off our day of creative inspiration.
Traditional Art and Culture @ The National Gallery of Victoria
The National Gallery of Victoria (NGV) is the oldest and most visited gallery in Australia. Situated over two magnificent buildings – NGV International and NGV Australia – the Gallery hosts a wide range of international and local artists, exhibitions, programs and events; from contemporary art to major international historic exhibitions, fashion and design, architecture, sound and dance. Founded in 1861, the NGV holds the most significant collection of art in the region; a vast treasury of more than 70,000 works that span thousands of years and a wealth of ideas, disciplines and styles. It is a collection that is yours, and it's free!
The future of digital art @ The Lume
Stepping into THE LUME Melbourne is an epic adventure into art. Australia's and the Southern Hemisphere's first permanent digital gallery transforms the world's finest art into fully immersive sensory encounters. The walls come alive as light ripples across every surface and masterpieces come to life. Curated tastes, aromas and a choreographed soundtrack add thrilling new dimensions to this 360-degree experience. Explore, play, dance and marvel as every surface becomes an animated canvas: floors, walls and guests alike. Be transported as familiar landscapes become moving images that tower four storeys tall, while you wine and dine in the heart of the gallery. Create your own journey, linger where you please and be delighted by new perspectives on iconic artworks.
Please note: This session involves a lot of walking and being on your feet for lengthy periods, however we will be taking regular breaks throughout the day to rest.
Adventure details
Date: Monday 11 April 2022
Time: 9:00am – 6:00pm
Travel: V/Line
Age Group:  13+
NDIS Price:
1:3 = $213
1:1 = $514  (Ask us for availability)
Additional costs may apply for home pick up / drop off
Out of pocket expenses:
– The Lume Ticket entry: Adult/Concession :$44  //  under 17: $37
– V/Line ticket
Spending money: Food and drink purchases can be made throughout the day or you can bring your own.
Register your interest